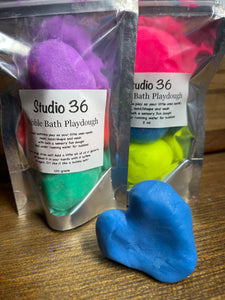 TO USE: Use this dough to model or smoosh into shapes! Let it dry, then use under hot running water for a bubble bath! Or, use as is, for a bubble bath. DO NOT use this dough then store back into this bag - extra water and germs will spoil this product. Designed as a single use product only

This playdough will firm up a little - just work it with your hands to soften or add a few drops of oil and knead until soft and moldable.
Ingredients: Baking Soda, sodium Lauryl Sulfoacetate, glycerine, Arrowroot Powder, Potassium Bittrate, simmondisa Optiphen Plus. Chinesis (jojoba) oil, mica, parfum. Optiphen Plus.