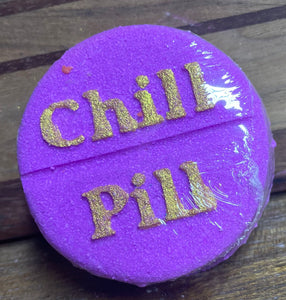 Ever heard the term, "Take a chill pill"? Yeah. You have. Now you can. And you're gonna love taking some time for yourself to relax and enjoy a delightful bath. 

All of our bath bombs are made in small batches! We are our own worst critic and as such, strive for perfectly shaped and painted bath bombs every single time. However, accidents do happen and bath bombs can crack or chip during shipping/transit/delivery. This does not affect the performance of our bath bombs which are all made with our favourite amazing recipe which we've perfected over the years, thanks to your feedback. Sometimes our bath bombs float on their own, sometimes they don't. There is nothing wrong with either outcome, both are relaxing and awesome.

There are two ways to use our bath bomb: 
1. Toss the entire thing into the bath without a care in the world, close your eyes and enjoy.
2. Gently and Slowly place the bath bomb into your water, keep your eyes open, and enjoy the beautiful colours, foam, and fizzies that ensues. 
3. Maybe there's a third way, we don't know. 

Ingredients: Sodium Bicarbonate, Citric Acid, Persea Gratissima (Avocado) Oil, Sodium Lauryl Sulfoacetate, Polysorbate 80, Parfum.