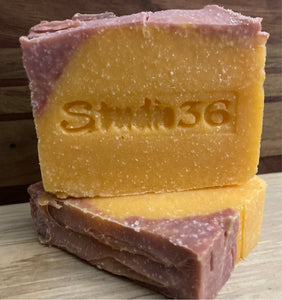 This bright & refreshing bar has a gorgeous scent profile of: sparkling peach, sweet orange & juicy mandarin! 

All of our Salt Soaps are made with our signature tried and true house recipe. 

Salt Soaps make for an amazing hard, long-lasting, bar of soap Allow to drain and dry fully between uses to get the most out of your Studio 36 Salt Bar.

Please note that as this is a soap on our restock list, design may vary by batch.